Vermont Honey Yogurt
Our cows graze a diverse mix of clover, alfalfa and other flowers in their pastures. These are some of the same flowers favored by the honey bees. When we combine our exceptionally creamy organic, high protein milk with the delightful sweetness of honey produced by local bees, the result is a true harmony of flavor and a treat not-too-sweet for everyday!

INGREDIENTS
Pasteurized certified organic whole jersey milk, local Vermont honey, living yogurt cultures: l. acidophilis, l. bulgaricus, s. thermophilus.
Where to find it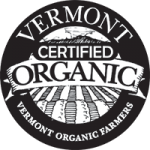 NUTRITIONAL INFO
Calories per serving: 248
Calories from fat: 94
Total Fat: 10g 15%
Saturated Fat 6g 33%
Trans Fat 0g
Cholesterol 46mg 15%
Sodium 130mg 5%
Total Carbohydrate 33g 11%
Dietary Fiber 0g 0%
Sugars 32g
Protein 8g
Vitamin A 6%
Vitamin C 4%
Calcium 29%
Iron .5%