Vermont Vanilla Organic Nonfat Yogurt
Our high protein organic skim milk, locally produced maple syrup, and special care in culturing and processing combine to bring you the smoothest tasting vanilla yogurt available. The maple syrup we use is pruchased from our neighbors, here on the Canadian border. Enjoy this little bit of pleasure from northern Vermont.

INGREDIENTS
Grade A pasteurized certified organic skim milk, certified organic maple syrup, pure vanilla, living yogurt cultures: l. acidophilis, l. bulgaricus, s. thermophilus.
Where to find it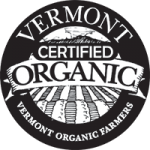 NUTRITIONAL INFO
Calories per serving: 108
Calories from fat: 0
Total Fat: 0g 0%
Saturated Fat 0g 0%
Cholesterol 5mg 2%
Sodium 135mg 6%
Total Carbohydrate 19g 11%
Dietary Fiber 0g 0%
Sugars 18g
Protein 8g
Vitamin A 0%
Vitamin C 4%
Calcium 30%
Iron 0%